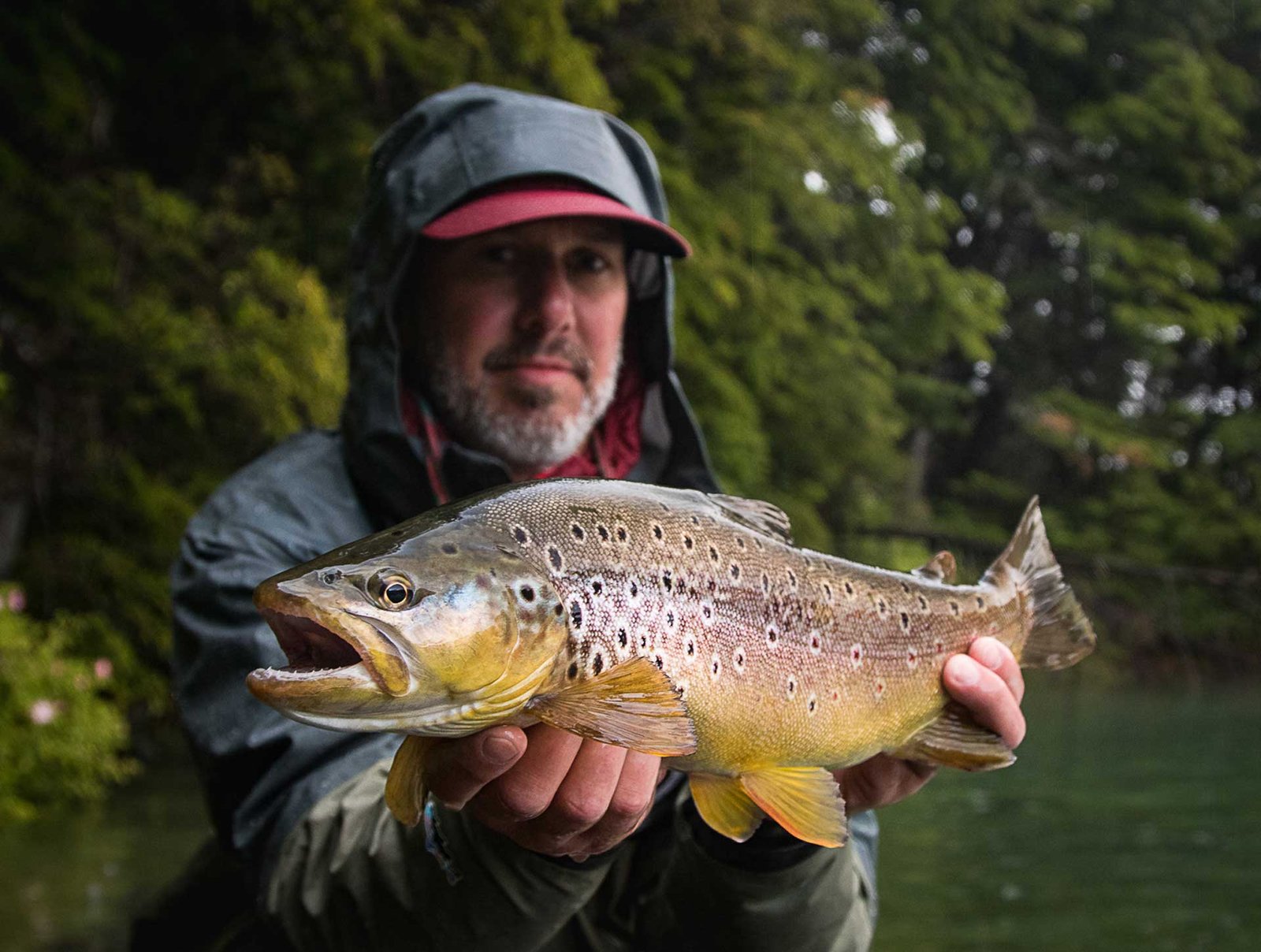 The Aysén region of Chilean Patagonia is one of the best fly fishing destinations in the world and offers a stunning landscape with mountains, lakes and rivers amidst breathtaking nature.
This region has two features that distinguish it from the rest of Patagonia: its impenetrable, green forests covered with moss and lichens; and its abundance of water in all forms, where lakes, rivers, waterfalls, glaciers, fjords, and even clouds are essential components of a landscape that will immediately captivate you.
The versatility of the different waters in Aysén Patagonia enables a great range from dry fly fishing in spring creeks to streamer fishing in still waters.
Our guides will show you the hot spots and help to make your fly fishing dream come true.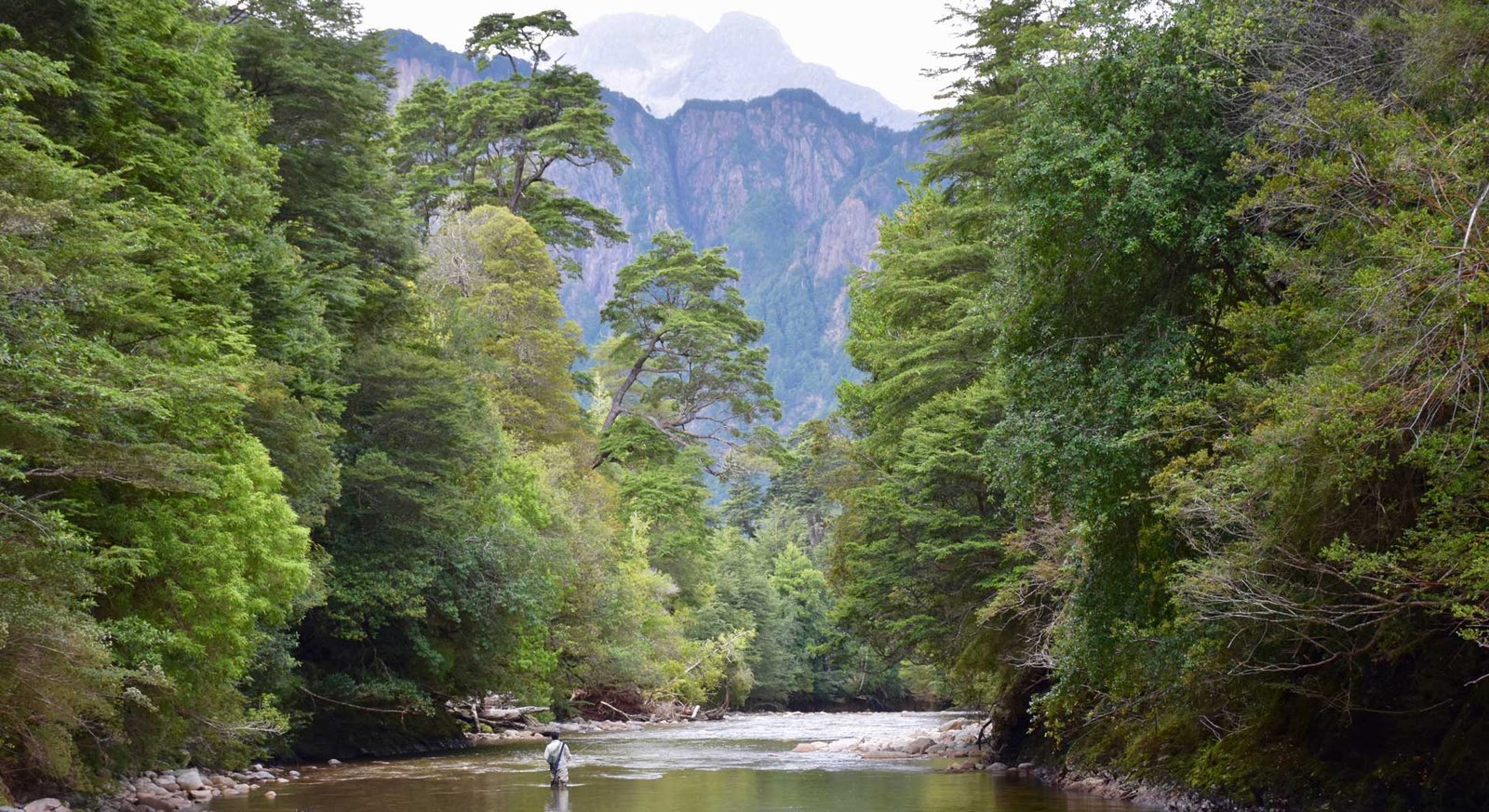 Day 1: The Rio Simpson originates in the eastern Andes and flows west past Coyhaique, where it enters the Rio Simpson National Reserve. The marvelous shores offer classical stonefly caddies and mayflies dry fishing. Brown and rainbow trouts have an average size of 14-22 inches, occasionally trouts reaching a size of 30 inches. The King Salmon enters the river from early January through mid March.
Day 2: The Rio Nireguao is located 70 kilometers northeast of Coyhaique and rolls through the flat steppe with moderate currents and large pools. The banks, lined with some trees and tall grass, provide an ideal view of unique rock formations and are home to many grasshoppers. . The wind of the pampa ensures that the trouts find a well-laid table, creating a real dryfly paradise. The average fish run about 1-4 pounds.
Day 4: The Rio Mañihuales river offers a versatile structure with shallower sections, rapids, vortices and pools. With its partially heavily vegetated riverside and crystal clear water it demands precise roll casts. The average trout reaches 4-6 pounds. As the river has a rich food supply, all classics as Adams, Elk Caddis, Pheasant Tail nymphs and Emergers are thriving.
Day 4: The Paloma River is glacial freestone which flows in the Southwest of Coyhaique. The crystal clear water provides fantastic dry fly fishing from December to the end of March. At this time big trouts, rising from the lakes to spawn, bring fantastic fishing. Trouts between 14-23 inches were caught especially with Royal Wulff, Elk Caddis, Hoppers, Prince nymphes and Streamers.
Day 5/6: The Lago Pollux and Lago Castro are surrounded by native forests and provide a rich ecosystem which offers perfect conditions for the growth of rainbows. From early January to the end of February is the high season at Lago Pollux. Trouts with weighing 7 pounds are not unusual in these waters. The favorite patterns are Ernie ́s Scud, San Dragon, Bead Head Prince, and, last but not least, Streamers.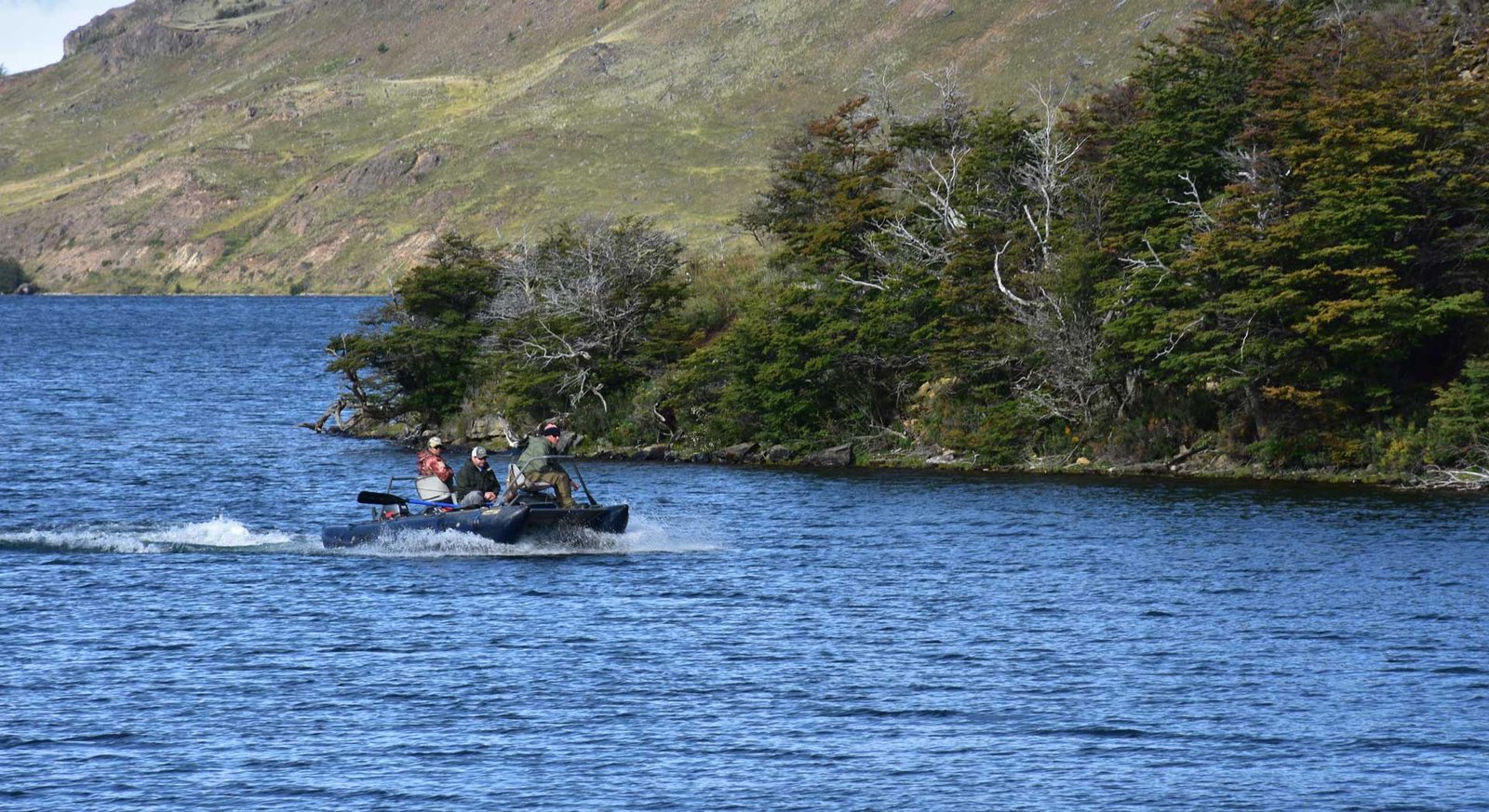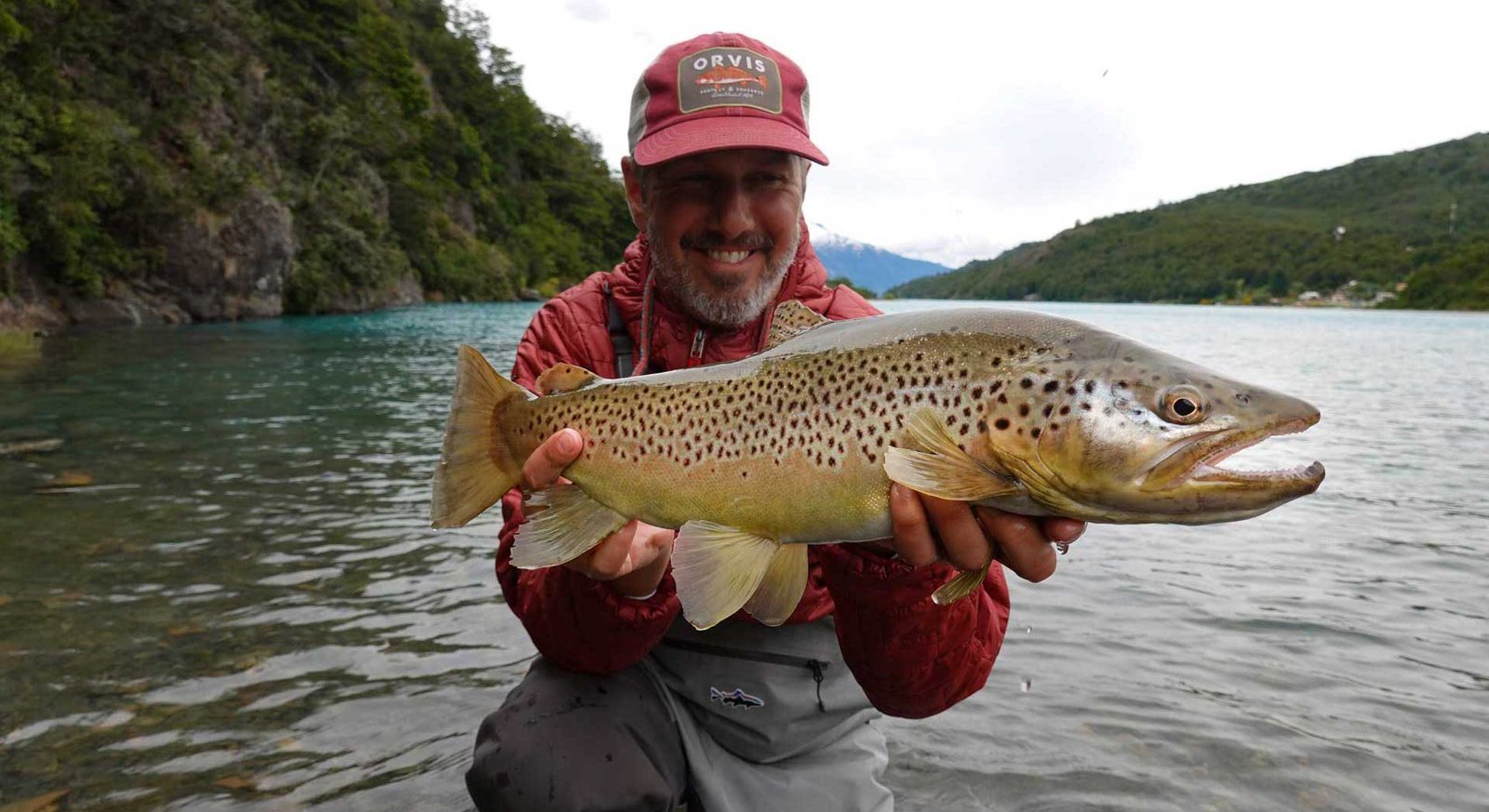 SEASON: OCTOBER - APRIL
FLY TO: BALMACEDA BBA
TRAVEL TO: COYHAIQUE (SHUTTLE SERVICE)
DAY 1: Departure from Balmaceda BBA and arrival in Coyhaique (Shuttle Service)
DAY 2-6: Intensive Fishing
DAY 7: Departure to Balmaceda BBA (Shuttle Service)
PRICE: 2495.00 EUR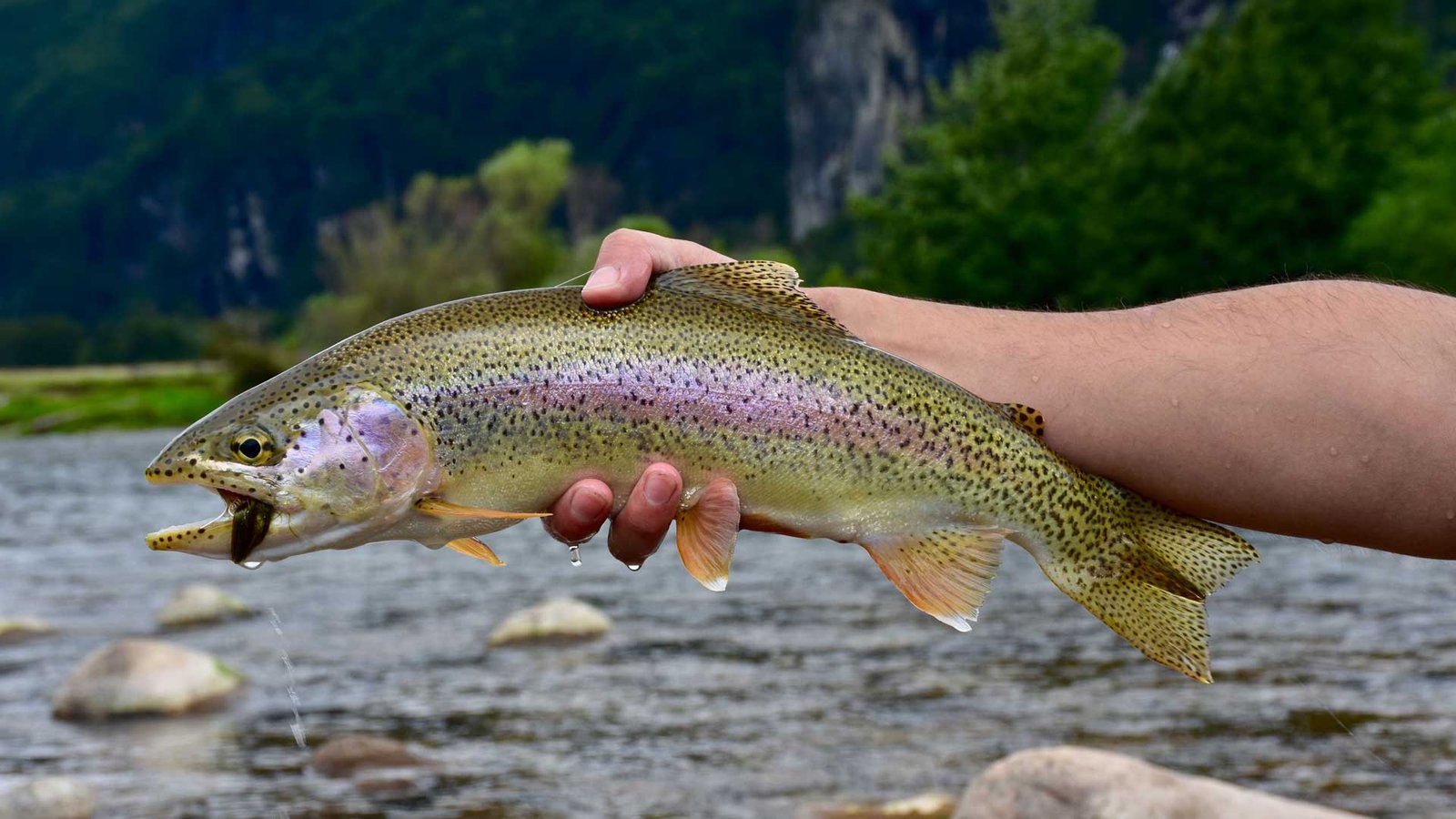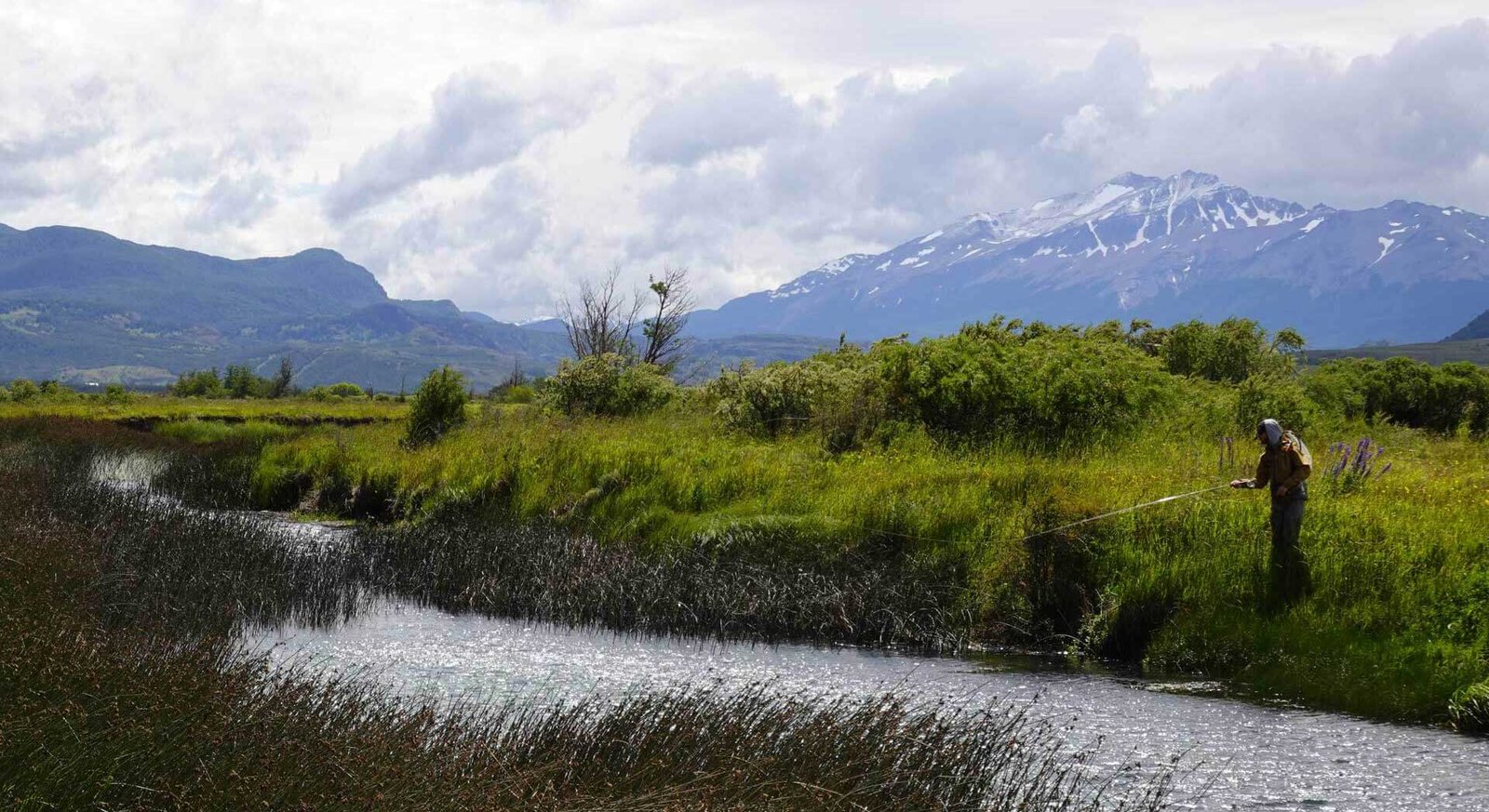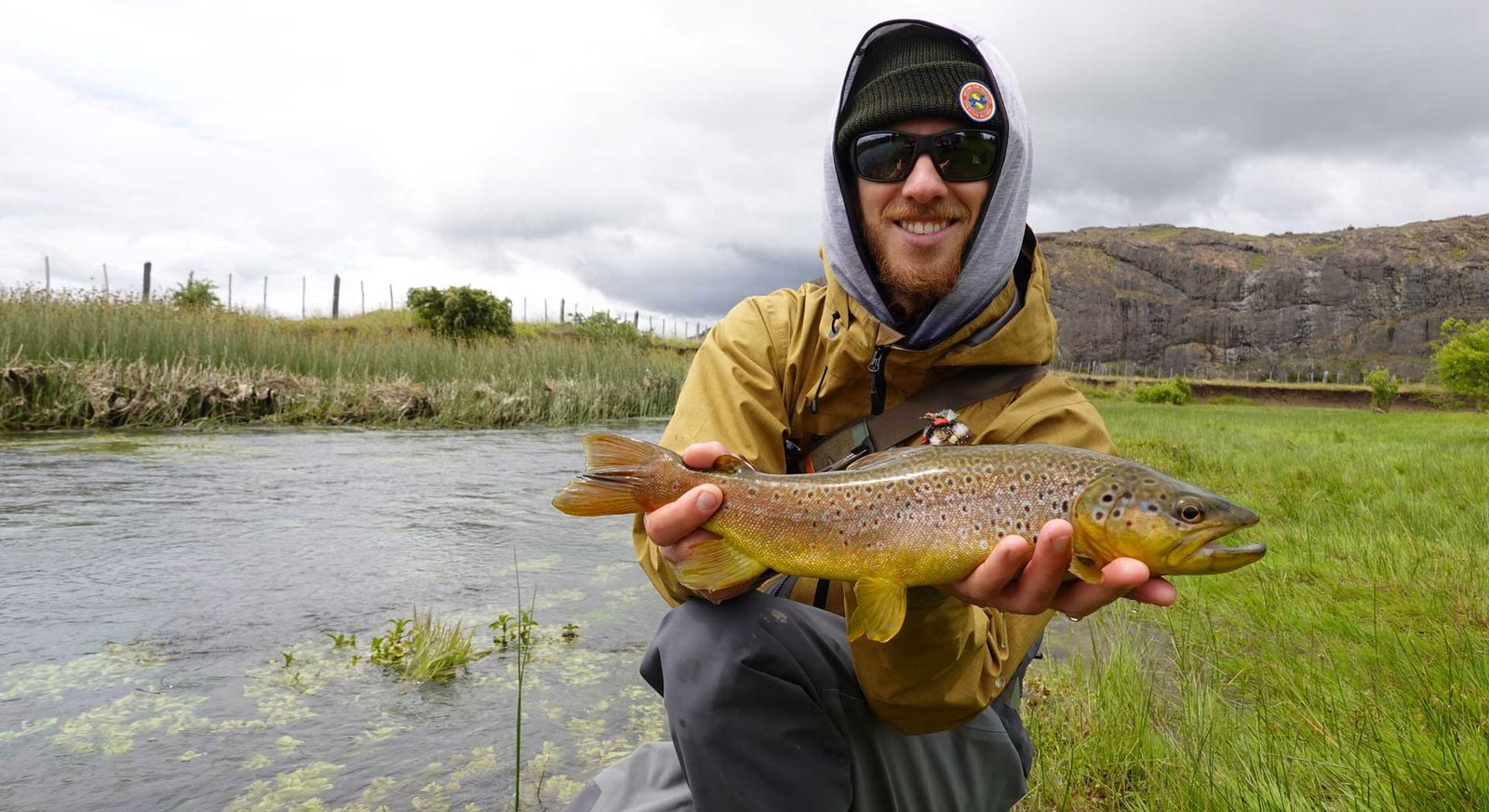 We mount our rods with dry flies and sneak upstream so that the fish cannot see our intentions right away. Finally my fly pushes itself into the visual field of a trout. It sets course for the bait, but turns back on the last centimeters.
Fishing here is not as easy as it looks: in the crystal-clear water, even wafer-thin lines don't go unnoticed. I change my strategy and let the fly sink in the shallow current by giving line little by little. As it slowly punishes itself, I first suspect that it has got stuck on the bottom.
I set the hook and feel the fish, which immediately afterwards seeks refuge in the undergrowth. Once he has reached the hiding place, I have no chance with my thin line. So I steer against it and try at the same time not to put too much strain on the line. The fish notices the change of course and flees at full speed, jumps out of the water and says goodbye forever with a skilful movement of its head - a choreography that, when rehearsed, seems like a good ballet.
Shortly afterwards a butterfly appears on the bank and flutters along just above the water surface. This causes a trout to detach itself from its stand on the bottom and follow the butterfly's unpredictable movements. My fly, which is merely a supporting actor in this event, is inhaled by the trout apparently in passing. Despite its subsequent powerful escape I manage to hold it in my hands after an exciting drill. What luck!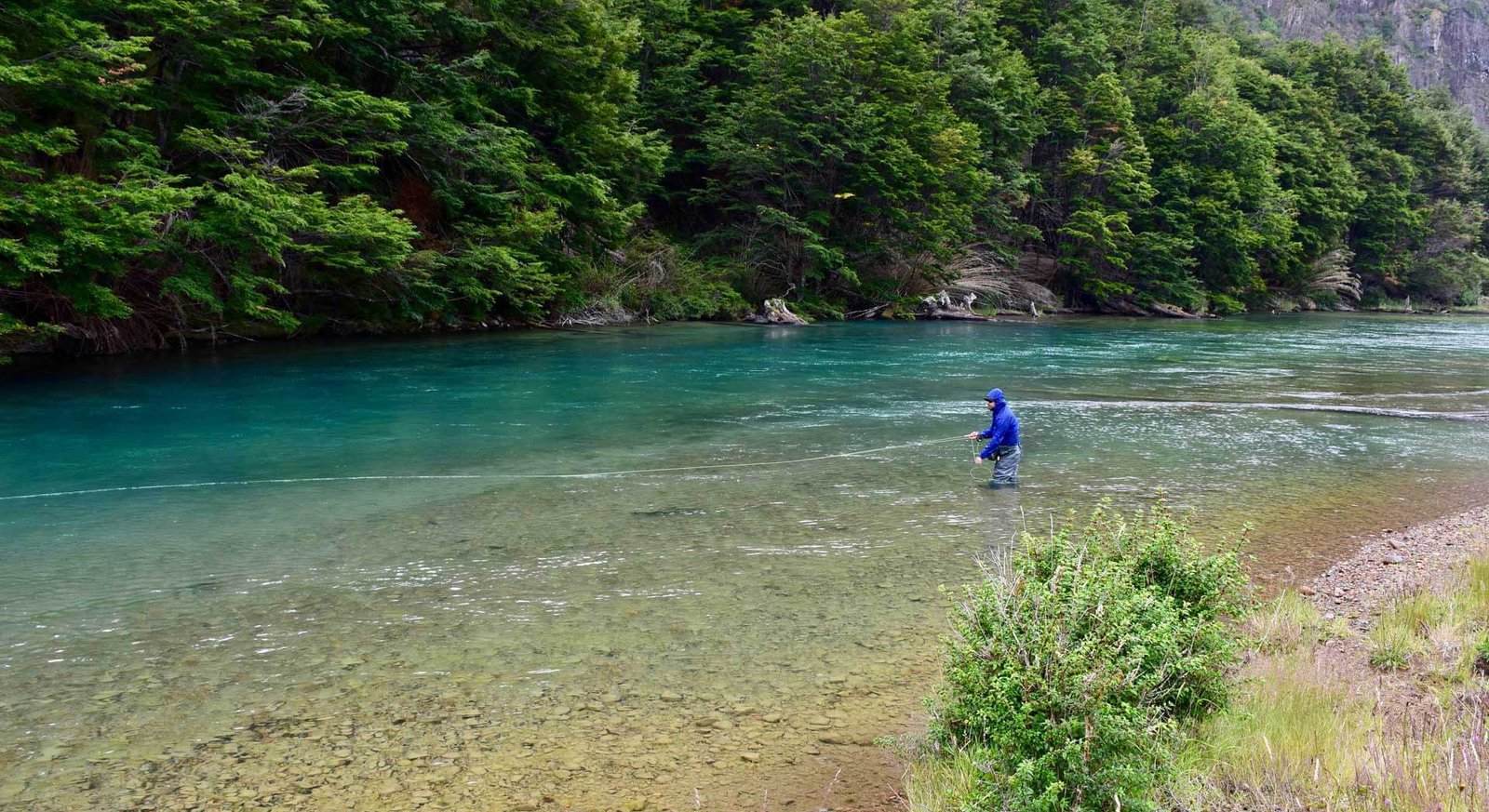 This is our recommended kit for your stay:
RODS: 9ft #6-8 rod
REELS A good, reliable reel suitable for a #5, #7 or #8 rod
LINES: Good quality WF floating and Sink 1/3 line
LEADER: Tapered leaders 9-12ft in 4X-01X
ACCESSOIRES: Landing net, Leader clip, Polarizing sunglasses, Sun milk
CLOTHING: Wading shoes, Wading pants, Wading jacket, Thermal layer, Gloves, Beenie, Cap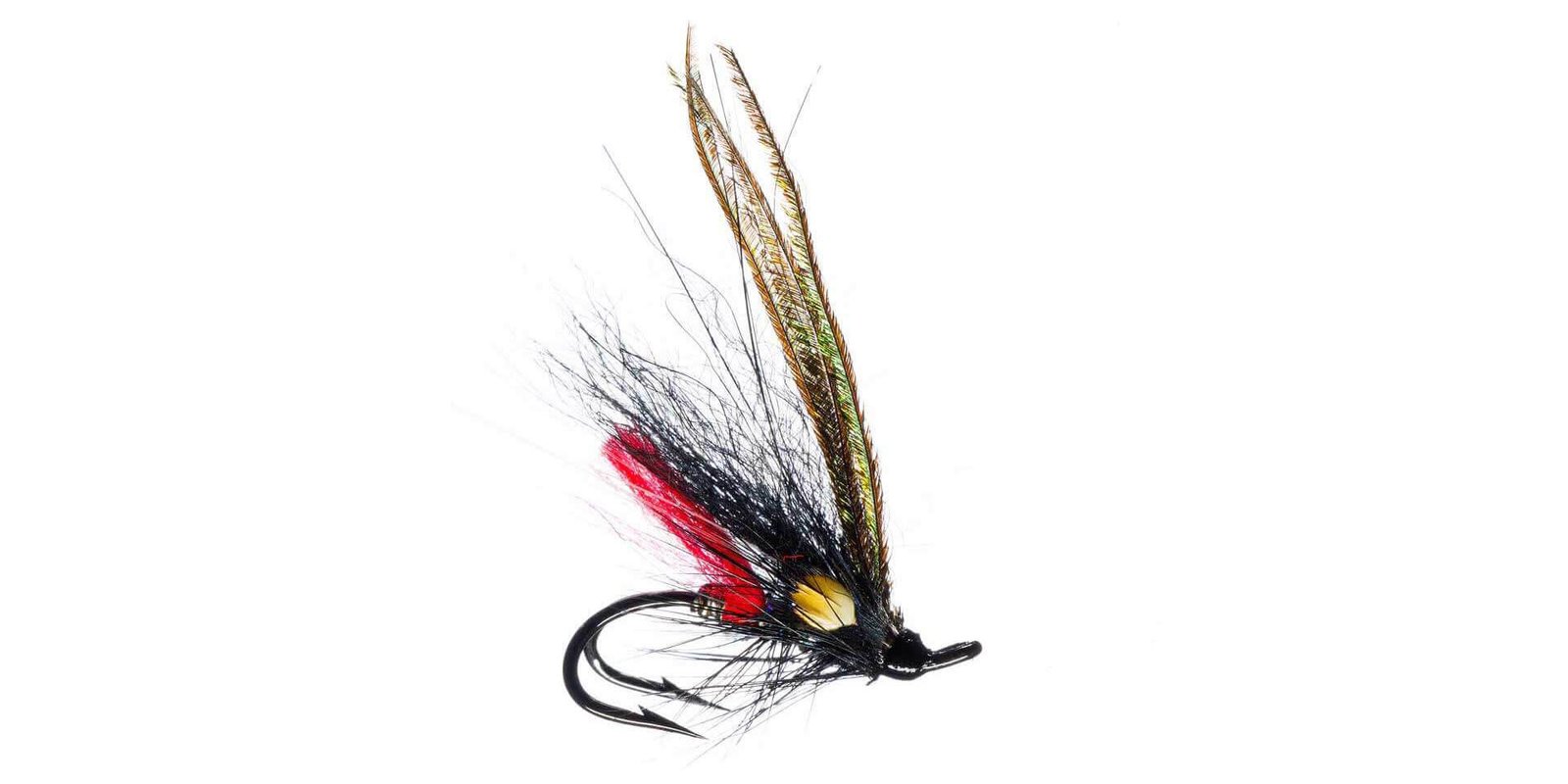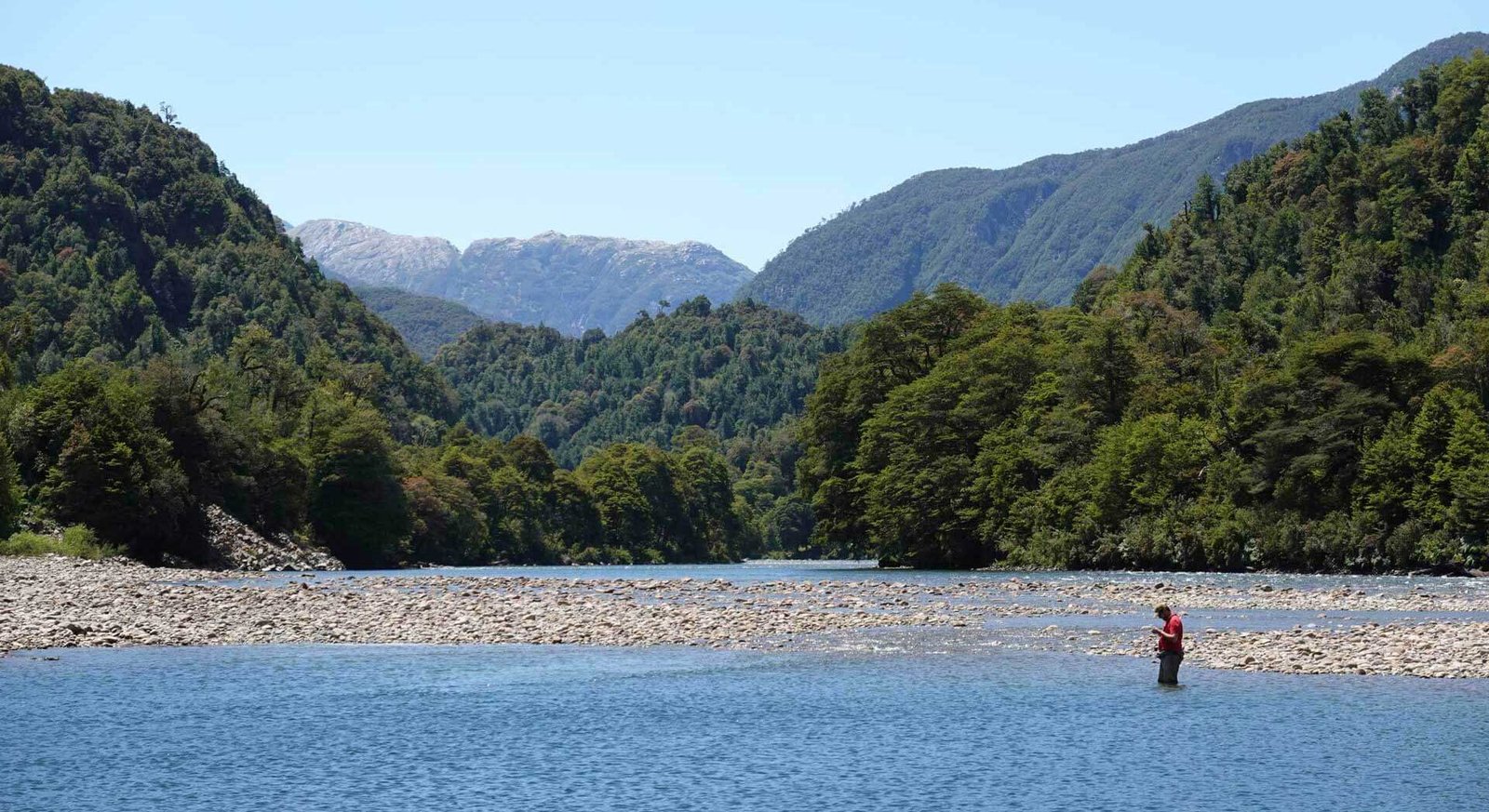 Jörg Siegroth
Niedersachsen, GER
"If you have the chance to go fly fishing with him, you should take advantage of this opportunity. Not only because fly fishing is quite fun, but also because Tobi is a very nice and pleasant person!"