WADE FISHING IN THE DANISH SOUTH SEA
SEA TROUT TOUR
We invite you to a unique landscape of hills and valleys that show clear traces of the Ice Age. In the bays of southern Denmark, the versatility of a long outer coast and the large fjords provide ideal conditions for fighting sea trout.
SEA TROUT FISHING FROM SPRING TOT AUTUMN
THE SEASON
The season extends from March to October. The best fishing for sea trout can be experienced in the months of April and September.
NATURE SHAPED BY THE ICE AGE
VERSATILE OUTER COAST AND LARGE FJORDS
The wonderful views of wide beaches with secluded bays and the maritime climate are a good basis for healthy and relaxed sea trout fishing in peaceful surroundings.
SEA TROUT CAMP
SCANDINAVIAN ACCOMMONDATION
The cosy accommodation is easy to find and close to Sønderborg on the Danish island of Als. Our guests are accommodated in single rooms in a holiday home, from where you can quickly reach all the spots and enjoy the pure nature.
TRAVELING TO DENMARK
ITINERARY
DAY 1: Departure from Hamburg and arrival in Nordborg
DAY 2-3: Intensive Fishing
DAY 4: Fishing and departure to Hamburg
PRICE: 649,- EUR
FLY FISHING GUIDE BERLIN
BOOK WITH US
We will take you to the best spots in a beautiful landscape and share our knowledge about wind, weather, water level and not to forget: the right fly!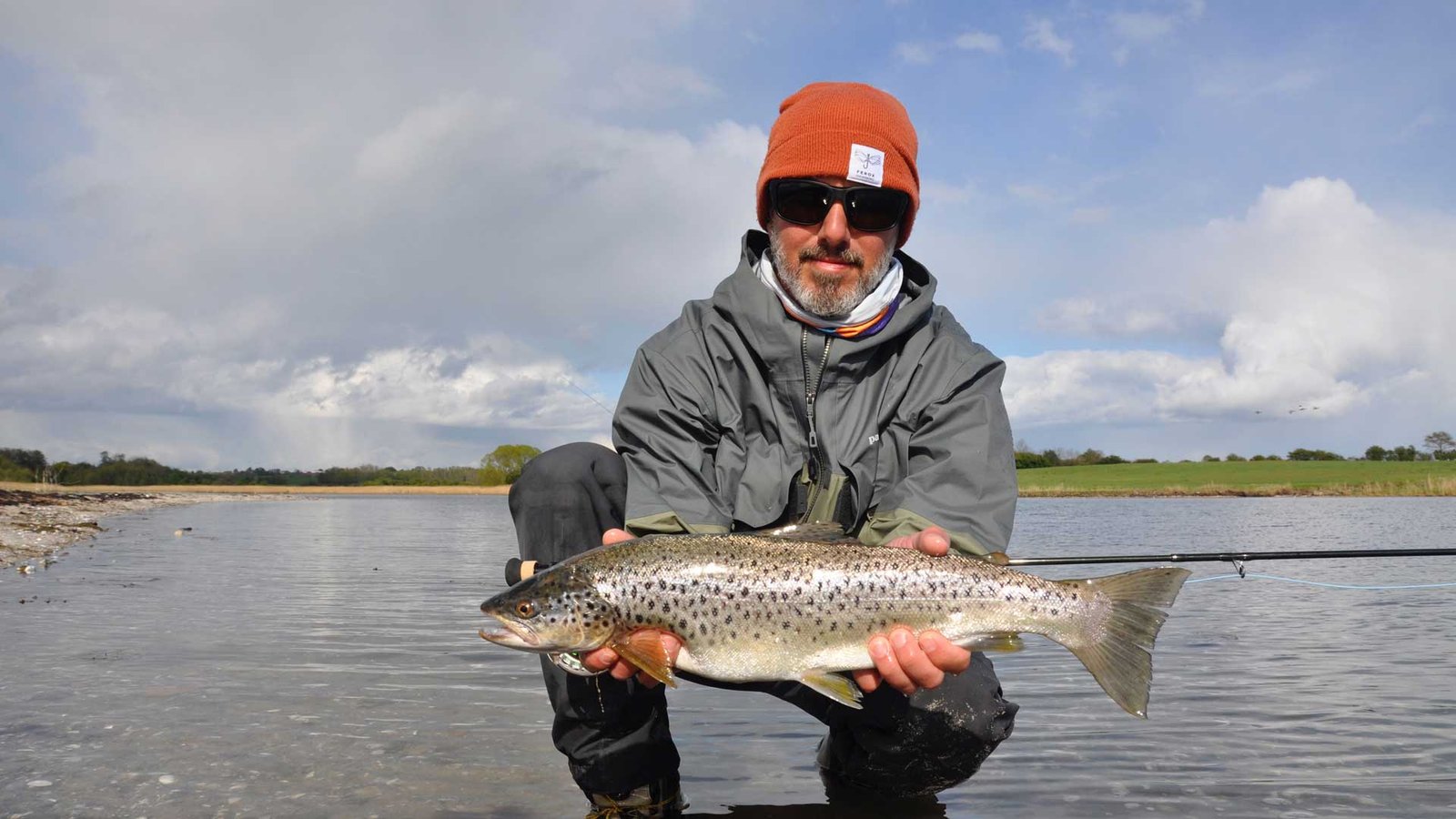 The alternation of sandy spots, stones and plants provides shelter for small animals of all kinds, which is why trout like patrolling in this so-called "Leopard reasons". The wonderful views of wide beaches with secluded coves and the maritime climate make for healthy and relaxing sea trout fishing in promisingly peaceful surroundings.
The sea trout fishing is characterized by long distance casting while wading along the coastal bays, beaches and fjords. Anyone who has ever started fishing for the silver power packages will do it again, garanteed.
Since sea trout are known as eating machines and to change locations in order to find food in many areas, we will teach you the art of spotting them sea trout and equip you with the right saltwater pattern. The rich food supply in coastal areas causes the sea trout to grow very fast.
So come along and get some of those!
In the morning we have a hearty breakfast, at lunchtime we have a snack and Danish cake. In the evening, filleting, varied cooking, uncorking a wine, firing up the stove and telling the best stories of the day.
This is our recommended kit for your stay:
RODS: 9ft #6-8 rod
REELS A good, saltwater resistant reel suitable for a #6, #7 or #8 rod
LINES: Good quality WF floating and slow intermediate line
LEADER: Tapered leaders 9-12ft in 0X-01X
ACCESSOIRES: Stripping basket, Landing net, Leader clip, Polarizing sunglasses, Sun milk
CLOTHING: Wading shoes, Wading pants, Wading jacket, Thermal layer, Gloves, Beenie, Cap
ARTICLES FROM MAGAZINES
Auf nach Als by Tobias Cordes
FILMS
Colors & Light by Philip Noss
"Tobias Cordes and Fly Fishing Guides Berlin provided me with memories that I will never forget and I will be forever grateful to him for making this awesome experience possible. I would recommend him to anyone (novice or skilled) that wants to experience once in a lifetime fly fishing in Denmark."